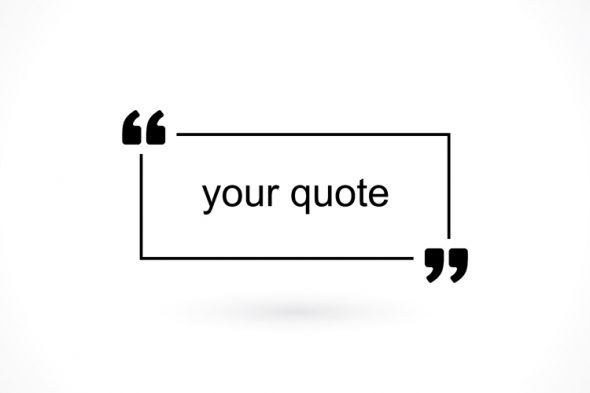 Press articles often include direct quotes from the people involved in the story; sometimes because the journalist has interviewed that person or the PR supplied the quotes along with the press release. Quotes bring another dimension to the piece as they are included (and marked as) separately so showing the difference between the author's own views and the views of those quoted.
Quotes are often included to include a 'right of reply' to a question or assertion from the journalist and, although occasionally taken out of context, are normally an accurate copy of what was said.
A good quote – one which is considered, genuine and delivered correctly – can make or break a story. For PR purposes including quotes in your release is an excellent method for adding credibility, demonstrating the values of your team and connecting with your audiences.
Be Authentic
As with all communications the first point to consider is the audience. Think about the best way to resonate with the people reading the article. Obviously, the readers of a local newspaper might be interested in a different approach to the readers of your online trade magazine. Adjust your language appropriately, in the same way you would do if you were meeting the readers face-to-face.
If appropriate add some personality or just some personal information into the quote – examples might be "My children tell me…" or "When I travel home on the train…", although it is probably best to avoid trying to be funny.
Try not to simply paraphrase part of the story – make sure there is something newsworthy which only appears in your quote.
Press Releases
Adding a quote into your own story is straightforward – most press releases have at least one quote included. It is worthwhile considering whether third party quotes can add to the story – such as customer testimonials, a stakeholder's views or even an expert's opinion.
Be Quoted Elsewhere
You can also add your quote to other people's releases which provides great opportunities to share your key messages. Supporting your suppliers and commercial
partners with comments in their stories strengthens the business relationship and increase your brand awareness.
Spokesperson
It is nearly always best to provide quotes from a named individual. Spokespeople and 'trusted sources' do not engender credibility and can even make it look like the organisation is being less than transparent.
This does not mean that the MD is only person who should ever be quoted. Indeed, the criteria should be who can add the most value with a direct quote. If a member of staff wins an award, it is as interesting to hear the award winner as it is to hear the congratulations from their boss.
If you want to expand your media responses beyond no comment, please get in touch.